Online Primitive Reflex Integration
The actual session has short period of me showing an adult assistant what the next step is, followed by the adult doing that step while I monitor via the computer camera. Then repeat till we have done what we needed to do that day. Then I will give you what you need to practice till we meet again.
This information will be kept in a teachable classroom that is dedicated to you alone. The videos I use to teach you and the handouts to help you remember what we talked about, will also be there.
If you have agreed to be recorded, I will post the recording of the session there too.
That is all the easy part. You also need a willingness from your child to engage with you in activities. If this is the missing component, we first have to do some work around the relationship and how to get engagment - which we can talk about in the Discovery Visit.
To start the process:
Book a free Discovery Visit with me.
You will be sent a questionaire and some legal paper work to sign. Please do it.
Attend the free Discovery Visit - so I can hear more and tell you if what you would like to achieve can be done by me in this format.
If this is a good idea, and you agree we will do a short evaluation to get an idea of where to start. This may take a variety of forms, including sending you some instructions of something to do and video record for me, a questionaire, and then having an online session where you do some activities and I take notes as you do them.
Then we can go ahead and meet again - to start the process. It will probably mean I have to show you some basics that you will need to do at home - daily for between 5 and 15 minutes.
And then we can dive in working with your kid. Some kids need to have the networks - that we will be integrating the reflexes into - built. We will start that if needed and then begin integrating reflexes.
What equipment is needed?
For the online session:
computer / phone / tablet
camera
online/ internet access
a few small beanbags for propping  the camera
For the activities:
peanut ball - millard - blue
bean bag chair
small bean bags for tossing
balloons
a 6-8inch walmart soft ball / beach ball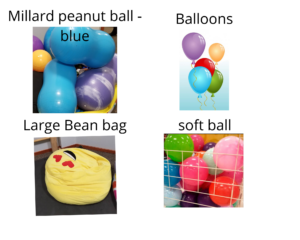 What kind of space is needed?
For the online session:
A clear floor area about 8' x 8'
What is the time commitment?
Home program: 10- 15 minutes daily
Sessions: 1 hour per period.
(a period:- weekly or every 2 weeks)